The Corporate Sustainability Reporting Directive (CSRD) is a significant regulation aiming to improve the quality and relevance of sustainability reporting by European Union (EU) companies. The CSRD was proposed by the European Commission on April 21, 2021, and entered into force on January 5, 2023. The CSRD requires companies in Europe to report on their sustainability practices, including environmental, social, and governance (ESG) performance, using standardized sustainability reporting requirements.
A new EU legislation requires all large companies to publish regular reports on their environmental and social impact activities. Compliance is happening soon, as companies are required to submit their report aligning with the CSRD on 1 January 2025, for the 2024 financial year.
Although the CSRD primarily targets larger companies, smaller companies will also be affected indirectly. This is because many small and medium-sized enterprises (SMEs) function as suppliers or service providers to larger companies, which are obliged to provide sustainability reports. Consequently, smaller companies will have to be prepared to respond to such requests and exhibit their commitment to sustainability.
The demand for sustainability reporting is not confined to the EU but is a worldwide phenomenon. Many multinational corporations have made sustainability a central aspect of their business strategy and anticipate their suppliers and service providers to do the same. As a result, sustainability is increasingly becoming a criterion for supplier selection and procurement decisions.
Smaller companies that do not prioritize sustainability may face a disadvantage when competing for business against larger, more sustainable rivals. Sustainability reporting, on the other hand, can assist smaller companies in developing their reputation, increasing their visibility, and enhancing their competitiveness.
It's important to note that the CSRD is a directive of the European Union and may be applied differently in other countries. For instance, in Germany, a national law called Lieferkettengesetz has already been implemented, requiring companies to take responsibility for the social and environmental impact of their supply chains. Other countries may choose to adopt similar regulations or develop their own reporting requirements. Companies that operate globally may need to comply with multiple reporting frameworks, which can increase the complexity and cost of their sustainability reporting. Therefore, it's crucial for companies to stay informed about the regulations and reporting requirements in the countries where they do business.
The regulation will impact the following types of companies:
Companies with more than 250 employees
Companies with a net turnover exceeding €40 million
Companies with a balance sheet total greater than €20 million
NFRD versus CSRD: Differences and Action Points
The Non-Financial Reporting Directive (NFRD) is a European Union directive that requires certain companies to report on their environmental, social, and governance (ESG) performance. Specifically, the NFRD requires "public interest entities" to disclose information on their ESG policies, risks, and outcomes.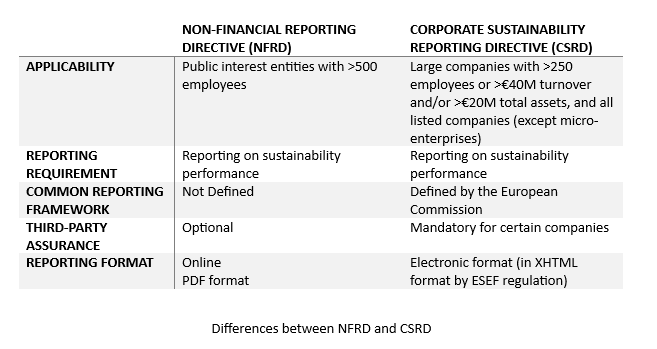 What specific information will companies be required to reveal?
Additional to the NFRD Under Directive 2014/95/EU, large companies are required to publish information related to the:
Environmental protection
Social responsibility and treatment of employees
Respect for human rights
Anti-corruption and bribery and
Diversity on company boards
Also, the CSRD is adding additional requirements on:
Double materiality concept: Sustainability risk (including climate change) affecting the company + companies' impact on society and the environment
Process to select material topics for stakeholders
More forward-looking information, including targets and progress
Disclose information relating to intangibles (social, human, and intellectual capital)
Reporting in line with Sustainable Finance Disclosure Regulation (SFDR) and the EU Taxonomy Regulation
Under the directive, non-EU companies with EU subsidiaries meeting specific annual revenue thresholds are obligated to disclose their environmental, social, and governance (ESG) impacts.
It is crucial to note that failure to comply with the CSRD reporting requirements may result in severe consequences. Companies that fail to report and comply with the CSRD face fines of up to 10 million Euros or 5% of their annual revenue. This significant penalty reflects the importance of transparent ESG reporting and encourages companies to prioritize their sustainability efforts.
Benefits and Consequences of CSRD Compliance
Investing in CSRD initiatives has many benefits for businesses.
Cone Communications found that 88% of consumers are more likely to buy from companies that prioritize social and environmental issues.
In addition, a study by Glassdoor found that 75% of employees expect their employers to take a stand on social issues, which includes sustainability. Furthermore, the Harvard Business Review found that companies that prioritize sustainability are more likely to outperform their peers in the long term.
Companies with strong ESG practices have a lower cost of capital, which leads to higher profitability and stock returns. The benefits of CSRD initiatives are not just financial. A study by PwC found that diversity and inclusion initiatives can improve employee engagement, increase innovation, and improve decision-making. Companies that prioritize diversity and inclusion also have a better reputation and are more likely to attract and retain top talent.
However, companies that fail to comply with regulations can face significant penalties. Under the CSRD, companies that fail to comply with reporting requirements can face fines of up to 1% of their annual turnover. For example, French oil and gas company Total was fined for failing to adequately prevent a gas leak at one of its North Sea platforms, releasing nearly 50 tons of gas. Furthermore, Total is currently facing legal action in France over allegations of human rights and environmental violations related to its operations in Uganda.
How CSRD Addresses the Problem of Quality Reporting
The CSRD comes into play as Environmental, Social, and Governance (ESG) reporting gains momentum. There is evidence that companies' information is not sufficient in the reporting. According to the European Commission, "reports often omit information that investors and other stakeholders think is important." Reported information can be difficult to benchmark from company to company, and users are often unsure whether they can trust it. With its new requirements, the EU is tackling the problem of quality reporting by establishing a common reporting framework. The CSRD aims to ensure that businesses report reliable and comparable sustainability information to re-orient investments towards more sustainable technologies and companies.
HR professionals play a vital role in enhancing their organization's strategic impact through CSRD initiatives. By complying with regulations and investing in sustainable practices, companies can improve their reputation, attract, and retain top talent, improve financial performance, and promote diversity and inclusion within their organizations.
EDLIGO Talent Analytics can support HR departments with a constant flow of data to predict and measure the impact of key strategic decisions and determine the future readiness of the organization, supporting HR departments in their strategic role as a foundation for sustainability.  EDLIGO helps organizations achieve their sustainability goals by providing data-driven, unbiased insights into workforce diversity, employee career aspirations, and mobility opportunities, and supporting the development of individual career paths and training opportunities.
More about CSRD read here European Commission Portal.