According to LinkedIn Learning Report, 94% of employees say they would stay at a company longer if it invested in their learning and development. Training and development are effective when implemented strategically, which involves content development, method of delivery, and integration of technology (Harward & Taylor, 2014). Descriptive analysis data may be used to track different levels of engagement, participation rates, and test results. This kind of knowledge enables L&D professionals to spot patterns that help them figure out training that is most beneficial to employees.
Why Training and Development are Important?
Employee development and training programs are important to the growth at both personal and organizational levels. These programs not only allow employees to develop their abilities but also let companies increase employee productivity and improve company culture.
Training and development enhance employee performance
Employee training and development programs are critical for enhancing employee performance. According to The International Journal of Business and Management, 90% of employees agreed that training and development programs improved their job performance.
People can prepare for extra responsibilities through training opportunities, whether the opportunities are cross-training or transitioning. Satisfaction is derived from L&D programs that teach them the skills they need now and, in the future.
Employees can benefit from training and development programs that help them build on their strengths while also addressing weaknesses indicated in their performance reports. These evaluations frequently identify knowledge, abilities, and competencies that an employee should improve, and training and development programs can assist the person in meeting that requirement.
Training and development boost employee productivity
Another area where the value of training and development can be evident is in employee productivity.
Companies that offer comprehensive training programs have 218% higher income per employee than companies without formalized training.
According to the Association for Talent Development (ATD), companies that offer comprehensive training programs have 218% higher income per employee than companies without formalized training. Employees who participate in excellent training programs perform more efficiently. According to HR Technologists, organizations can use the following metrics to assess the effectiveness of their employee development and training programs:
–       Giving pre-and post-training assessments: Asking employees to share what they expect from training and development programs and whether the company's efforts met those expectations
–       Measuring performance results: Evaluating work outcomes to determine levels of improvement
–       Mining data: Learning data such as time spent on a course or dropout rates to gain insights about how employees are engaging with the content
With the aid of training and development initiatives that depend on a better comprehension of processes and clearly defined objectives, team members can manage activities both individually and in groups. Due to their familiarity with the skills required for their line of work, employees will take less time to find solutions to issues. By offering training and development, employers may focus on the knowledge and skills they want their employees to possess. Employees might be trained in new skills or given updates on existing ones as part of learning and development initiatives to increase productivity. Today's rapidly evolving technology regularly calls for upskilling, and training and development programs offer that chance. These initiatives promote creativity and a willingness to take risks to enhance processes with less supervision.
Training and development help improve the organization's culture
Another advantage of giving employees L&D programs is that it improves the culture of the organization. Better task management and teamwork reduce the need for constant supervision. A company's dedication to fostering each employee's learning and growth is demonstrated by a training program that targets individuals' skills and values. An organization's focus on innovation and overcoming personal hurdles makes it more appealing to top talent. Individual interests and backgrounds are a key input to developing holistic training and development programs, which encourage learning based on individual interests and backgrounds. Understanding the culture and values of other employees increases teamwork and helps to create a more inclusive and cohesive workforce.
Best Practices for Leading Effective Training in an Organization
It is difficult to lead the L&D department. It entails careful planning, anticipating a wide range of organizational and employee demands, and responding to those needs with the appropriate solution. It also necessitates a wide range of abilities, from leadership and strategic thinking to resource management and performance evaluation.
Listen to uncover real company problems and needs
Often, the first step in creating and delivering training is identifying a company problem and determining whether training is the right way to address it. This process is known as diagnostics and listening to uncover needs. When you listen to uncover needs, you serve as a performance consultant and strategic partner, identifying impediments to achieving organizational goals and leveraging your expertise to remove barriers.
Customize training to meet the organization's needs
Strategic alignment, or the capacity to match training programs with company goals, is the most critical process competence of excellent training organizations. Learning leaders can guarantee that training is relevant to learners' professions and ambitions by designing training programs to match corporate needs rather than merely acquiring generic off-the-shelf content.
Make training engaging and interactive
People don't learn when they aren't interested in learning. One of the most important content development practices is making learning engaging and interactive. Create programs that capture learners' attention; keep them engaged; and encourage interaction between learners, between instructors and learners, and between learners and the content. This is the first step toward improving outcomes.
Adapt training to the organization's unique business or culture
Aside from tailoring training to your company's demands and your learners' professional tasks, the culture of your company is also important to consider. If your company is slow to adopt modern technologies and learners are hesitant to utilize new software programs, implementing a virtual reality (VR) training program may not be a good option for your company, regardless of how beneficial such a program is in another company or industry.
Measure learning outcomes
With constant pressure to reduce operating expenses, it's more important than ever for the training department to prove a certain return on the invested budget. Assessing training is also important for process improvement. By identifying where training has succeeded and where it has failed, you can make changes to your programs and improve future results.
Ways Learning Analytics Can Transform Corporate Learning
Organizations' approaches to professional development are evolving. Long instruction books and time-consuming in-person sessions are no longer necessary. Instead, the attention is moved to creating dynamic online experiences that individuals can access from anywhere and can be customized to their specific needs.
In this new world of corporate learning, analytics' function is here to:
–       Sharpen identification of professional development needs
–       Assist companies in determining what works
–       Relate training benefits to company needs
–       Encourage active involvement and engagement
–       Provide targeted and personalized support in learning
Using Learning Analytics such as EDLIGO will help increase productivity and efficiency and assist companies with employees' learning. Technological advancements are accelerating, raising the expectations of both learners and instructors.
Learning analytics can be quite useful in determining the effectiveness of training programs.
So, let's discover how Learning Analytics can improve corporate training programs.
Prioritizing learning and organizational outcomes
At times, data can be a double-edged sword. Modern corporate LMSs and other technology, on the one hand, can make data collection easier than ever before. Analyzing the massive amount of data available, on the other hand, might be a huge challenge.
Here's where having a well-defined data strategy will be a significant help. Based on your needs, goals, mission, and vision, you should be able to determine the data that is most essential to your organization and prioritize the elements you want your people to study first. The latest technologies and AI advancements make the prioritization of skills and competencies easy and effective. EDLIGO offers an AI-powered solution that gives targeted learning recommendations that guarantee the best outcomes for the employees and the organization.
Enabling better and more comprehensive data collection
With so much data available, just a limited amount of the learning data collected by organizations is often employed. The types of information that can be acquired include adoption, engagement, time on task, activity levels, and progress.
It's important that your organization analyzes and interprets data in the appropriate context. Individual data points don't mean much on their own, and it's simple for your stakeholders to misinterpret them. Data becomes essential information when you build on a story and incorporate your company's goals and objectives, delivering insights that can help you turn knowledge into action and generate outcomes.
With EDLIGO you can view and analyze longitudinal, comparative, or progressive analytics through tailored, intuitive, and easy-to-use dashboards.
Reinforcing the need for strong data security
As the amount of data collected grows, learners are concerned about how it's used and secured. Organizations can take several actions to build solid data governance and security standards, including:
–       Only gather the information that is meaningful and relevant to your strategic objectives
–       Just keep important data for a short period
–       Ensure you're working with technology providers who are just as concerned about security as you are
Organizations are ultimately accountable for the privacy and security of the data they collect. Taking steps such as these can be beneficial.
EDLIGO's technology is GDPR compliant, with high-security standards, rooted in research with the patented leading-edge feature.
Enabling personalized learning experiences
The workplace environment is a major concern for companies. Professionals like to work in environments that prioritize career advancement and development. One of the measures that may be used to deliver a personalized and highly relevant employee development experience is the personalization of training. Personalized learning for employee development allows L&D teams to better align learners with company goals and upskill or reskill them to fill in competency gaps.
The power of individualized learning for employee development is found in its ability to provide learners with:
–       A customized approach that is geared to their interests, capabilities, present proficiency levels, and future needs
–       An ownership and control over their learning journey, which increases interest, engagement, and the desire to actively seek out learning resources
Personalized learning can be incredibly beneficial for both organizations and learners. And to provide personalized learning, it is essential to have data that reveals your employees' learning styles and preferences.
Using EDLIGO solutions you can determine employees' learning needs and which skills they should develop, use recommendations on how skills gaps can be closed most efficiently, and reinforce continuous learning and a growth mindset. With EDLIGO you can derive personalized learning paths without increasing cost and complexity, as well as analyze learning path interventions and progress.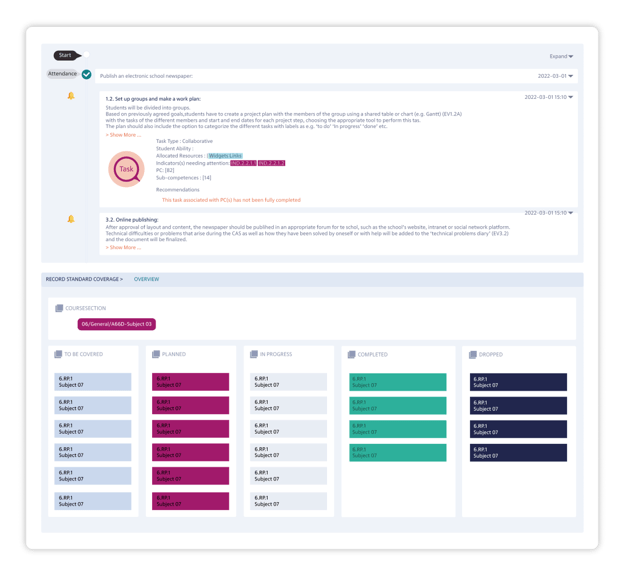 Measuring ROI of the learning and development
Positive learning cultures in companies lead to more engaged, higher-performing, and adaptive workforces. Learning and development empower employees to take charge of their careers. It helps managers uncover innovative ways to help their employees grow. Data-driven insights are used by L&D to reinvent learning programs. When you listen and invest in your people, you get the best return on investment from learning.
With EDLIGO you can measure and maximize ROI from Learning and Development strategy, reskill, and upskill your employees for a competitive edge and use recommendations on how skills gaps can be fulfilled in a cost-effective way.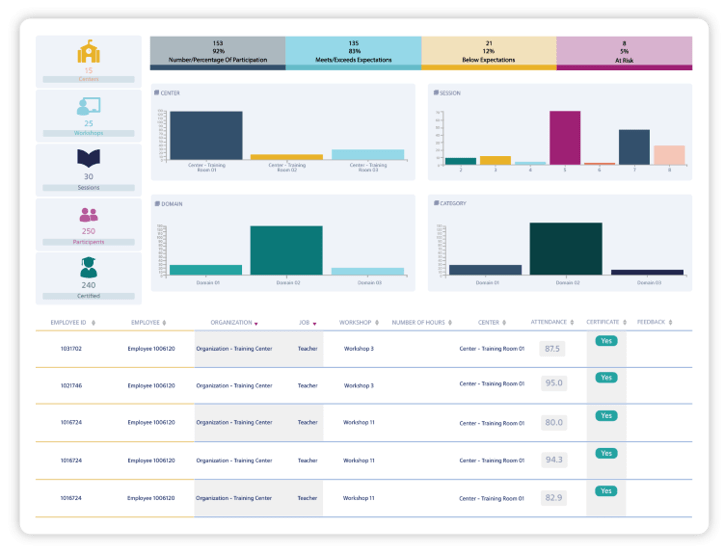 Organizations benefit from the facts and insights supplied by Learning Analytics during a perpetual data-driven environment to optimize their training strategy. If your organization hasn't already started using Learning Analytics to improve the effectiveness and ROI of your training programs, it is now the right time to start.
Companies need data on their side as they prepare to make decisions about the future of their training programs. It's what enables us to answer fundamental questions about the efficacy of professional learning and development programs, as well as take projects to the next level to drive long-term engagement, retention, and success. It's all about empowering organizations to link data gathering with training objectives, create plans that address specific strategic needs, and implement Learning Analytics solutions that deliver maximum results.