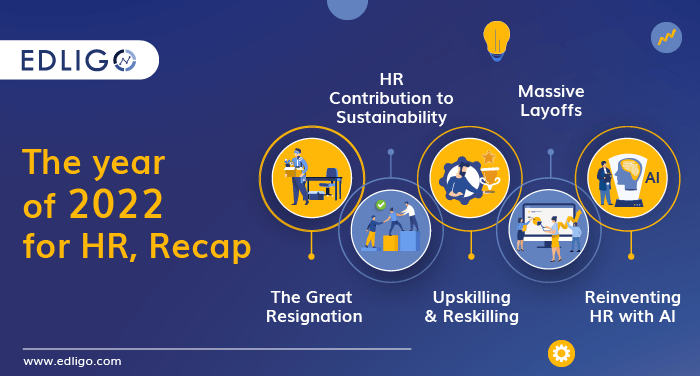 We live in the most disruptive work environment, and the speed of change did not slow down in 2022. Although hybrid employment has given both employers and employees more flexibility, it has also created some challenges. Since annual compensation increases haven't kept pace with inflation, many companies must deal with financial challenges. Uncertainty, constant technological change, and ongoing geopolitical instability added to these realities.
The focus this year has been on meeting the growing needs of employees and helping them grow within the organization. Human resources are more crucial than ever in 2022! This article provides an overview of all the major HR trends affecting the workforce in 2022.
On the one hand, companies struggled with the effects of COVID-19, such as economic disruption, record-high voluntary "quits" of employees, and a significant rethinking of the nature of work, with employees reevaluating their relationship with their jobs and employers redesigning the physical and digital workplaces to meet new demands.
On the other hand, COVID-19 has also accelerated pre-existing trends like the need to account for demographic differences based on age, gender, people's socioeconomic status, or being a member of a minority or underrepresented group, as well as the digitalization of the workplace.
All these challenges contributed to putting a lot of pressure on HR leaders, who were actively engaged in fostering internal organizational change. Companies had to develop and implement innovative solutions, eschewing the outdated one-size-fits-all approaches, under HR's direction and with its assistance. A challenging business environment and disruptive conditions required HR to go beyond what was currently thought to be possible to add even more value.
Essential skills and competencies, internal mobility as a talent strategy for employee retention, leadership development strategy, employee well-being, and ROI on learning and development strategy are just a few of the important HR trends for 2022.
The Great Resignation and the War for Talent
In the first half of the year 2022, three words shaped the world of work: "The Great Resignation." According to the U.S. Bureau of Labor Statistics, in 2021, the total number of employee separations reached 5.5 million. This includes turnover from resignations, layoffs, retirement, transfers, and discharges. Employee retention is a big challenge. It's not just about keeping your employees happy; it's also about maintaining your talent and keeping the best people on your team for as long as possible. A well-designed employee retention program can assist you in identifying and retaining key employees while reducing turnover and associated costs.
The National Association of Colleges in America found out that hiring an employee in a company with 0-500 people costs an average of $7,645. Other studies such as the one published by the Society for Human Resource Management in the USA, estimated that the average cost of hiring an employee is $4,129, and $14,936 for hiring an executive. Bringing in new employees requires costs that include both direct costs and costs associated with the time and effort spent during the process. For better financial planning, organizations must obtain a clear picture of the costs associated with hiring a new employee. Discover more about the costs of hiring here Why losing the best talent is so costly.
HR Contribution to Sustainability
The topic of sustainability is getting more attention, and human resources (HR) have a significant role to play. Sustainability used to be thought of as primarily addressing environmental concerns. Sustainability is now being expanded upon all conceivable social, political, and environmental factors, including people's relationships to the environment, CO2 levels, legal issues, and so on. Due to the new guidelines, laws, and regulations, human resources are now in a crucial role and must therefore expertly manage this new challenge. Artificial intelligence and Talent Analytics allow HR and enterprises to make a significant and vital contribution to sustainability. Comprehensible, repeatable, and comparable evaluations and reporting are made possible with the help of Talent Analytics. Find out how to address this topic here HR are CFO's and CEO's darlings to attract investors.
Employees' Upskilling and Reskilling
According to Gartner, over 60% of the workforce requires new skills to accomplish their tasks properly. Layoffs and great resignation have resulted in job losses, forcing companies to punt or pivot to survive. Upskilling is the key to staying current. This refers to the company's ability to train and develop its employees. Employee reskilling and upskilling, learning and development plans and competency mapping were the main priorities for the second half of 2022. According to the World Economic Forum (WEF), by 2025, approximately half of the global workforce will require reskilling. Furthermore, according to Gartner's research, 58% of the workforce will require new skill sets to succeed in their jobs.
Employee upskilling and reskilling are becoming increasingly important as organizations around the world recognize the importance of digital transformation to succeed in today's business environment. A well-designed upskilling and reskilling program can increase employee engagement and retention, improve departmental collaboration, accelerate change adaptation, and close the skills gaps via career pathing. Check the guide on how to implement a program for upskilling in your company and how to use career pathing to address the skills gap here Reskilling and upskilling as a strategic response to new skill demands.
L&D Strategies to Meet the Organization's Demands
One of the most frequently asked questions and important HR trends for the year 2022 is how to adapt training and development plans to meet organizational demands. In an ongoing data-driven environment, learning analytics data and insights help organizations optimize their training plan. It is now appropriate for your company to begin employing learning analytics to increase the efficiency and return on investment of your training programs. Read more about the importance of integrating EDLIGO Talent and Learning Analytics solutions into practice to achieve the best results here: Learning analytics for corporations: how to adapt L&D plans to meet organizational demands.
The year 2022 was marked by a lack of a clear understanding of the workforce's current capabilities, which can result in skills gaps that slow down the execution of the organization's business strategy. Leaders can use competency mapping and advanced tools that assist HR professionals in competency mapping to support strategic objectives and track employee skill development and professional growth.
According to LinkedIn, 64% of L&D professionals said that reskilling the workforce to fill skills gaps is currently a top priority. Competency mapping is complicated but effective at aligning employees with organizational objectives and producing a highly productive workforce. The need for creating a competency framework to boost employee productivity, skills, and future-readiness has grown in popularity, and many businesses are realizing this.
Building organizational culture, empowering employees, enhancing long-term viability, and ensuring consistency are just a few examples that show how important competency mapping is. Talent Analytics can be used to evaluate efficiency, cut costs, and boost performance. As a result, it contributes to the company's strategic goals and boosts employee engagement.
The End of the Year and Massive Layoffs
The end of 2022 was difficult for both talent and human resources leaders. We think we've gotten used to the fast-changing environment, but then we run into unexpected challenges. The global financial situation weighs on the wallets and portfolios of major corporations such for example Meta, Twitter, and Microsoft have all announced layoffs for 2022. To cut costs, dozens of companies have laid off many employees in recent months. According to Forbes, only in November over 760 tech companies had layoffs, with some companies shedding 10,000+ employees.
HR assumes a significant leadership and management role when it comes to layoffs. Many tech companies are reevaluating the extent of their investments in human and physical capital. Although companies intend to restructure their workforces, they are having trouble doing so because of a lack of data and advanced tools. Currently, many companies are reorganizing their workforces with the aid of tools like EDLIGO, which can assist with workforce restructuring and development through data-driven talent management.
The Role of AI in Reinventing HR
The use of artificial intelligence has progressed significantly. Leaders are increasing their AI investments, engaging in increasingly advanced practices known to enable large-scale and faster AI development, and showing signs of doing better in the competitive AI talent market. On the talent front, data show that there is significant room for improvement; however, AI is not widely used in human resources. Analytics and AI technologies are important for the HR function, as they can assist leaders in shaping company decisions, creating internal mobility opportunities, personalizing employees' career paths, and improving collaboration and working relationships.
AI has a place in every HR process. According to Gartner, most organizations are concentrating their AI efforts on three areas: employee engagement monitoring (38%), talent acquisition (38%), and HR operations (40% of businesses). Investments will rise as HR-related AI technology develops further. According to Gartner, 51% of HR leaders will maintain their current level of investment while 47% will increase it.
Analytics and AI technologies are important for the HR function, as they can assist leaders in shaping company decisions, creating internal mobility opportunities, personalizing employees' career paths, and improving collaboration and working relationships. Recently our team delivered an insightful speech on the topic of Reinventing HR Management with AI. Check this link to access the presentation recording.
EDLIGO, is a technology company that provides organizations around the world with AI-powered Talent and Learning Analytics. EDLIGO believes that employees are constantly learning, so it offers a comprehensive talent analytics solution that enables organizations to master all aspects of talent management, including learning and development.
EDLIGO believes that successful learning needs to be measured and personalized, so it provides a comprehensive learning analytics solution to help education leaders and educators make data-driven decisions to maximize learning outcomes.
We are a team of experienced, innovative, and highly committed people who take your talent management to the next level. Subscribe to our Newsletter and Follow us on LinkedIn to get the latest news about Talent and Learning Analytics.